Monument for Life Bus Tour Visitor Information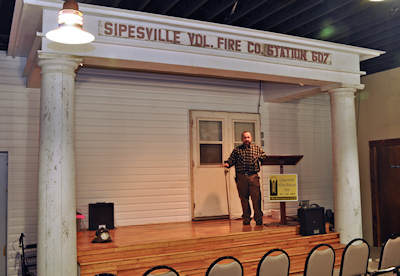 Bus tours and organized groups are very welcome here
at the Monument for Life site. There is plenty of
room for buses and our location is close to major
highways such as the PA Turnpike and US Route 30.

We do ask that you let us know that you would like
to stop here. This allows us to make arrangements to
provide a detailed presentation to your group and
make sure they learn as much as possible about the
momentous events that happened here.

The new visitor's center is now open. Here you can
experience the actual yellow rescue capsule that was
used to bring the men out of the Quecreek mine, 240
ft. below the earth! Other artifacts as well can be
viewed, along with your presentation!

Call Bill at 814 445 5090 for times and costs of the
presentation. Thank you!
General Hours of Operation
The Monument for Life Memorial Park is open daily from dawn to dusk, weather permitting. We request a $7.00 per person fee for admission to the Educational Visitors Center and Memorial Park.
Bus Tour and Group Schedule
The best time to see our live presentation is during a tour or event. You are invited to join us during these group dates and times.
AARP of Dubois Fullington Bus Tours
Tuesday, October 17, 2017 at 1:00 pm
John Unger
Saturday, October 21, 2017 at 1:30 pm
Carol Elite Coach
Monday, October 23, 2017 at 2:15 pm
Ligonier Ramada All in One
Tuesday, October 24, 2017 at 4:15 pm
Garmin Creation / Ark Tours
Thursday, November 2, 2017 at 3:15 pm
Bon Voyage Jay
Thursday, November 9, 2017 at 11:00 am
Carol
Sunday, November 12, 2017 at 3:15 pm

Return to Top of Page
Copyright © 2002 - 2017 - The Quecreek Mine Rescue Foundation. All rights reserved.
The official registration and financial information of Quecreek Mine Rescue Foundation may be obtained from the
Pennsylvania Department of State by calling toll free, within Pennsylvania, 1-800-732-0999.
Registration does not imply endorsement.