Monument for Life Bus Tour Visitor Information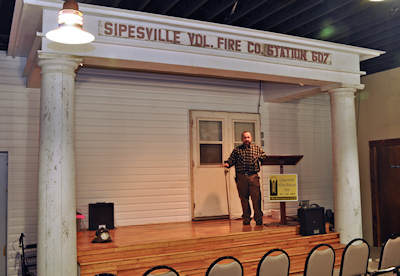 Bus tours and organized groups are very welcome here at the Quecreek Mine Rescue Site. There is plenty of room for buses on our newly paved parking lot. Our location is close to three major highways: Route 219, the PA Turnpike, and US Route 30.

To ensure that your group gets the best detailed presentation in the time allotted, we ask that you let us know in advance the time of your arrival and the approximate number of visitors.

After hearing how it all happened, we dismiss you and give you time to examine the actual yellow rescue capsule on display at the visitors center. You can see what is left of that broken drill bit that brought tears to everyone's eyes when it broke and separated us from the miners. You can follow the chain of events down our 17 ft. long timeline and watch videos of the miners as they express what they went through. There is so much more here to see, the gift shop, the history of mining, some of their clothing, the Quecreek mine map, and even Bill's newest book.

Call the Foundation at 814 445 5090 for more
details.

Thank you!
General Hours of Operation
The Monument for Life Memorial Park is open daily from dawn to dusk, weather permitting. We request a $7.00 per person fee for admission to the Educational Visitors Center and Memorial Park. The Educational Visitors Center is open 11:00 A.M. till 4:00 P.M Tuesday through Saturday. To schedule a live story presentation, call a few days ahead so we can be adequately staffed.
Bus Tour and Group Schedule
The best time to see our live presentation is during a tour or event. You are invited to join us during these group dates and times.
Love Tours - Starr Tours
Saturday, October 23, 2021 at 3:00 pm
Mervin
Saturday, October 23, 2021 at 12 noon
Conley
Saturday, October 23, 2021 at 10:30 AM
The Grace Place
Saturday, October 23, 2021 at 10:30 am
Covelli
Saturday, October 23, 2021 at 3:00 PM
Love Tours - RJ
Monday, October 25, 2021 at 2:30 pm
Love Tours
Friday, October 29, 2021 at 2:15 pm
Briggs Receptive Services
Saturday, October 30, 2021 at 2:30 PM
Love Tours - Lenzner
Friday, November 12, 2021 at 2:30 pm
Donna
Saturday, November 20, 2021 at 2:00 pm

Return to Top of Page
Copyright © 2002 - 2021 - The Quecreek Mine Rescue Foundation. All rights reserved.
The official registration and financial information of Quecreek Mine Rescue Foundation may be obtained from the
Pennsylvania Department of State by calling toll free, within Pennsylvania, 1-800-732-0999.
Registration does not imply endorsement.