Monument for Life Visitor Information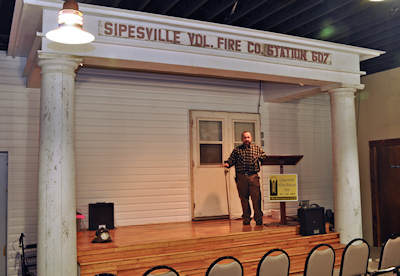 The museum (Educational Visitors Center) has started
it's winter hours. We will be open Tuesday-Saturday
11 AM till 4 PM. If you would like for someone to
personally tell you the story while you are here, you
will need to contact us a few days in advance so we can
be adequately staffed when you arrive. We are being
extra careful to keep the museum disinfected and making
sure that we have enough room to socially distance.

If you would like to schedule a tour on a Sunday or
Monday please call ahead.

Call: 814-445-5090
Email: Bill@9for9.org or Vicky@9for9.org
or leave a message on this site

Thank you.

For more vacation options check out
https://www.c2csites.us/

General Hours of Operation
The Monument for Life Memorial Park is open daily from dawn to dusk, weather permitting. We request a $7.00 per person fee for admission to the Educational Visitors Center and Memorial Park. The Educational Visitors Center is open Tuesday - Saturday 11 AM till 4 PM. Sunday and Monday by appointment only. To schedule a live story presentation, call a few days ahead so we can be adequately staffed.
Bus Tour and Group Schedule
The best time to see our live presentation is during a tour or event. You are invited to join us during these group dates and times.
Miller Family Tours
Thursday, December 31, 2020 at 9:00 am
Miller Family Tours
Friday, January 1, 2021 at 9:00 am

Return to Top of Page
Copyright © 2002 - 2020 - The Quecreek Mine Rescue Foundation. All rights reserved.
The official registration and financial information of Quecreek Mine Rescue Foundation may be obtained from the
Pennsylvania Department of State by calling toll free, within Pennsylvania, 1-800-732-0999.
Registration does not imply endorsement.