Monument for Life Visitor Information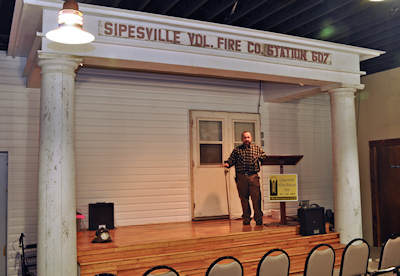 The museum (Educational Visitors Center) is open 10
A.M. till 4 P.M. Friday and Saturday and 1 till
4 P.M on Sunday. You can call ahead for
reservations or just stop in. When you call, please
leave your name, phone number and message on the
voicemail. We will get back to you during our
normal business hours.

Because this was such an amazing historical event,
we try our best to share the story to everyone who
comes to the site.

In order to keep us on a schedule, and to ensure
everyone will get to hear the story; We will start
presenting the story every 2 hours on days when no
coaches are scheduled. Daily story times will be 10
A.M.,12 noon and 2 P.M. When coaches are scheduled,
the story time will be 2 hours before the coaches
arrival time.

I am hopeful this will help us make sure everyone
who visits the Quecreek Mine Rescue Foundation will
get the most out of their visit. To check the
schedule, book a tour or tell us how many are in
your party; just call 814-445-5090.

I am going to try to keep the normal hours including
Sundays, through the month of November. I am more
than willing to be open during the Thanksgiving
holiday weekend if you are traveling through the
area and want to hear the story. But please let me
know you will be coming. If not, I won't be here.

Thank you.

For more vacation options check out
https://www.c2csites.us/

General Hours of Operation
The Monument for Life Memorial Park is open daily from dawn to dusk, weather permitting. We request a $7.00 per person fee for admission to the Educational Visitors Center and Memorial Park. The Educational Visitors Center is open 10 AM till 4 PM Friday and Saturday and 1 till 4 PM on Sunday. We will keep these hours till the end of November.
Bus Tour and Group Schedule
The best time to see our live presentation is during a tour or event. You are invited to join us during these group dates and times.
Phillips
Wednesday, December 11, 2019 at 10:00 am
Tammy
Thursday, December 19, 2019 at 10:00 am
All in one Tours -Elizabethville Seniors
Wednesday, May 6, 2020 at 2:00 pm
All in one Tours - Tucker Co Senior Center
Tuesday, May 12, 2020 at 10:15 am
Megan @ Lankmark
Wednesday, May 13, 2020 at 5:00 pm
Love Tours
Wednesday, May 20, 2020 at 2:30 pm
Carol -Happy Wonderers
Friday, May 22, 2020 at 10:30 am
Carol Rice
Thursday, June 4, 2020 at 2:00 pm
Love Tours - McCarter
Thursday, June 18, 2020 at 1:45 pm

Return to Top of Page
Copyright © 2002 - 2019 - The Quecreek Mine Rescue Foundation. All rights reserved.
The official registration and financial information of Quecreek Mine Rescue Foundation may be obtained from the
Pennsylvania Department of State by calling toll free, within Pennsylvania, 1-800-732-0999.
Registration does not imply endorsement.