Monument for Life Visitor Information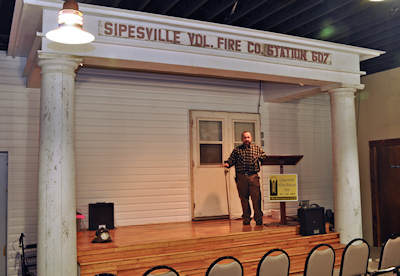 The Educational Visitors Center will be open daily
from 11 am till 4 pm Tuesday through Saturday. If
you plan on visiting on the weekend, it will need to
be scheduled ahead of time. The last story of the
day needs to start before 3:15. Be sure to plan
accordingly.

Please check the Bus Tour page to see if we have
anything scheduled for the day of your visit.
Sitting in on a Bus tour is the best way to hear the
story. If you want to sit in with a tour, please
call ahead so we can prepared for you and confirm
the expected presentation time.

Listening to the story, going through the Monument
for Life Memorial park and looking through the
museum takes at least an hour. Be sure to plan
accordingly.


General Hours of Operation
The Monument for Life Memorial Park is open daily from dawn to dusk, weather permitting. We request a $7.00 per person fee for admission to the Educational Visitors Center and Memorial Park.
Bus Tour and Group Schedule
The best time to see our live presentation is during a tour or event. You are invited to join us during these group dates and times.
On week days that no buses or groups are on the schedule, Vicky, will be giving the presentation at 1 p.m. to all those willing to listen. The rescue took over 77 hours, so leave yourselves at least an hour for the story. If you are planning on being here for the presentation and are running late, please call us at 814-445-5090 before 12:45 so we can make any necessary changes so everyone will be able to enjoy the show. On days when there is already something on the schedule, call and tell us you are coming, and we will gladly make room for you to join in.
AARP of Dubois Fullington Bus Tours
Tuesday, October 17, 2017 at 1:00 pm
John Unger
Saturday, October 21, 2017 at 1:30 pm
Carol Elite Coach
Monday, October 23, 2017 at 2:15 pm
Ligonier Ramada All in One
Tuesday, October 24, 2017 at 4:15 pm
Garmin Creation / Ark Tours
Thursday, November 2, 2017 at 3:15 pm
Bon Voyage Jay
Thursday, November 9, 2017 at 11:00 am
Carol
Sunday, November 12, 2017 at 3:15 pm

Return to Top of Page
Copyright © 2002 - 2017 - The Quecreek Mine Rescue Foundation. All rights reserved.
The official registration and financial information of Quecreek Mine Rescue Foundation may be obtained from the
Pennsylvania Department of State by calling toll free, within Pennsylvania, 1-800-732-0999.
Registration does not imply endorsement.