Monument for Life Visitor Information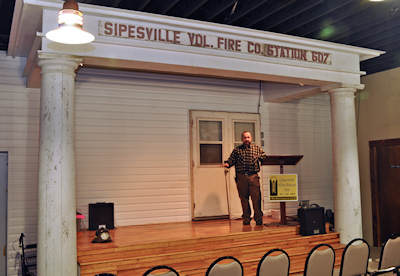 The Educational Visitors Center is OPEN!!! We will try to maintain the visitors center being open from Tuesday through Saturday from 11 am till 4 pm (Closed Sunday and Monday)

To schedule your tour please call about a week ahead of
time to insure we get the message in plenty of time to
work you in. You can leave a message on this site,
call 814.445.5090 or email me at Bill@9for9.org.

If you would like to hear the story from the owner of
the farm, Bill Arnold, who was very involved in the
rescue; we can show you his video presentation. The
video is also available for purchase so you can share
it with your friends. He tells the story as he experienced it.

We are SO excited to start our 21st season. We want to celebrate every person who was helpful in bringing those miners out alive, and the second chance they were given. Come join the celebration!

Adult admission $8.00
Veterans $7.00
Children 5 and under Free!
General Hours of Operation
The Monument for Life Memorial Park is open daily from dawn to dusk, weather permitting. The Educational Visitors Center is open from Tuesday through Saturday from 11 am till 4 pm FOR THE SEASON. Please call for other times or watch the website for scheduled motor coach tours to join.
Bus Tour and Group Schedule
The best time to see our live presentation is during a tour or event. You are invited to join us during these group dates and times.
Mount Hope Grazers confrence Offsite
Friday, January 26, 2024 at TBD
I will be speaking twice that day, once, about grazing on the home farm And once about the Quecreek Mine Rescue of 2002.

Return to Top of Page
Copyright © 2002 - 2023 - The Quecreek Mine Rescue Foundation. All rights reserved.
The official registration and financial information of Quecreek Mine Rescue Foundation may be obtained from the
Pennsylvania Department of State by calling toll free, within Pennsylvania, 1-800-732-0999.
Registration does not imply endorsement.